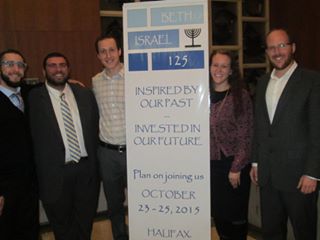 A letter from the New York group who joined us for Simchat Torah in October 2015:
Dear Beth Israel Synagogue,
It is truly impossible to detail our experiences and our gratitude to your lovely community. As part of our mission with Hisoriri, we travel to communities such as yours in hopes of lighting a spark from the preexisting flame that is the current Jewish community. But, as is often the case, our ambitions and expectations were shadowed by our incredible stay with you. We set out to enhance your holiday and in turn our holiday was enhanced ten times over.
Joining in services of your community, taking part in the dancing and perhaps most importantly, taking the time to speak to as many of you as possible was truly an honor and a privilege that we will not soon forget. The history of the Nova Scotian Jewish community is a strong one and one that we are humbled to have taken part in.
Thank you for opening up your beautiful shul to us and allowing us the opportunity to spend the holiday with you. We look forward to staying in touch and visiting again soon!
Sincerely,
Dov Winston and The Hisoriri Team